04.07.2009
I'm sitting in a bright, airy room, where a cool breeze wends its way up from the ocean and blows the curtains to and fro. I'm not near enough to smell the waves, the endless varieties of suntan lotion, or the evening bonfires, but the room is close enough that the wind can carry their promises and to cool me down on this warm 4th of July. About three and a half miles away is that vast ocean, and soon the sun will set behind it. So soon that it's filling every corner with liquidy golden light, the kind that on more than one evening has made me run after it, chasing it with cameras and with my whole heart, for that one shot. The one.
A lot of people have a lot of ideas about Southern California. A lot of preconceived notions. Especially when it comes to Orange County. Some consider it paradise, others think it's nothing short of hell. Having spent a fair amount of time here – more than four years at one point, and now back for who knows how long – I feel I've gotten to know parts of it fairly well. At times, I've loathed it (and for good reason). At others, I've come to like it quite a bit. If not quite love it, then at least to accept and like it for what it is and what it offers. A sort of warts-and-all appreciation, if you will.
Southern California – at least the parts I know – is not always what a lot of you think it is. Some parts of it most certainly are. But a lot of it is also vastly different. Beyond the pockets of extreme wealth, beyond the perception that everyone here is white and conservative and sort of an asshole, beyond the notion that it's a sprawling megaplex of interlocked suburbs, beyond and behind and between and inside the strip malls, there are worlds many of you have no idea exist. Food that can compete with – and occasionally kick the ass of – the best I've had in some of the coolest, most cosmopolitan cities in the world.
I'm still trying to find "home," and this place may never feel like it to me. Even so, Orange County and I have put up with each other and have come to find at least a little grudging respect. I have no idea how long I'll be here, but before I go I'd like to show you what I know of this place. What it means to me, and what you can find here. It's not just The OC. It's also Orange County. And then there's the rest of Southern California too.
I'll start with what I see when I take walks around my neighborhood. This is your first view of Costa Mesa. There have been and will be others, but here are some shots from my city, on some quiet recent evenings.
Tonight, of course, is the 4th of July. In Costa Mesa, fireworks are legal, and since it's only one of two cities in the county where that's the case, this won't be a quiet evening. So if you'll excuse me, I'll wish you a very happy Independence Day. Because in the tradition of this great holiday, I have to go blow some shit up.
Happy 4th, everyone.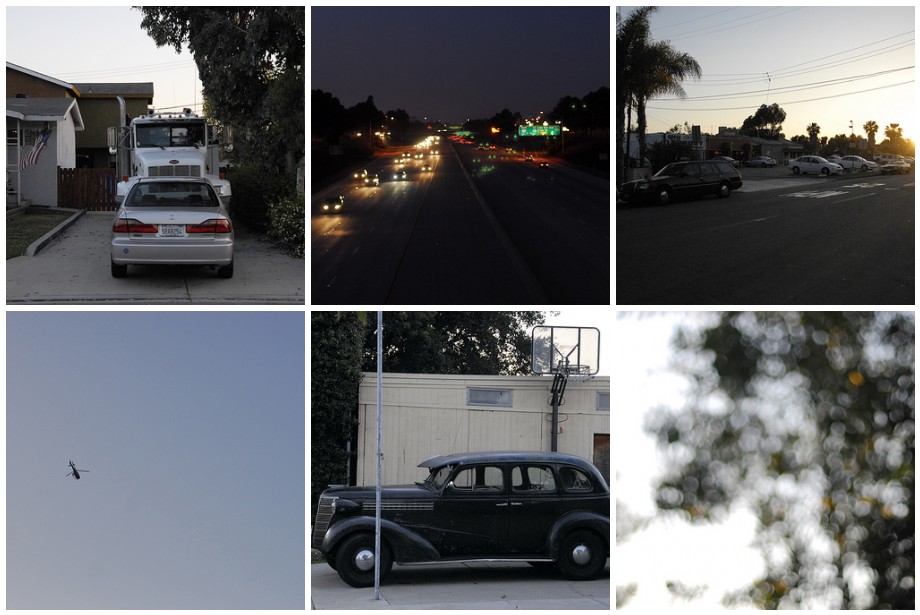 1. driveway, costa mesa, 2. overpass, costa mesa, 3. palm, strip mall, sunset, 4. chopper, 5. Untitled, 6. Untitled